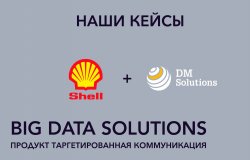 How we launched BIG DATA for SHELL
We tell you about our BIG DATA SOLUTIONS cases. Today SHELL case. The product is Targeted Communication.
Purpose: to analyze how the audience reacts to active links in SMS, in order to make a decision on including links in targeted messages.
SMS text: "Na Shell zapravlyauyut podarunkamy! Pruizhay, nakopuchuy baly ta otrymuy neimovirni pryzy! Details (link to website)»
Result: Response was 7.5% (transitions to the promotion page created specifically for this project).